New Options for People with Advanced Aortic Stenosis
One important reason to track any possible valve disease-related symptoms and get regular check-ups – especially as we age – is to ensure that any developing valve problems can be fixed at the right time. Unfortunately many people who need heart valve surgery simply do not get diagnosed in time to fix the problem in the best possible way.
Medications can be prescribed to increase the heart's ability to pump blood which may help compensate for a valve that isn't working correctly. However, a diseased heart valve is a mechanical problem that cannot be fixed with medication alone, and surgery is often needed to repair or replace the damaged valve. If the faulty valve never gets looked at until the patient realizes it's a serious medical problem, the diseased valve may have weakened the person so much that open heart surgery to fix the problem has become too risky. For most patients, helpful treatment options are still available.
Watch an animation of TAVR.
What if open heart surgery is too risky for me?
If you or someone you love needs a new heart valve, there is good news if you have been told you're too risky for surgery. People with severe aortic valve tightness may be good candidates for a less invasive repair or an alternative treatment called a transcatheter aortic valve replacement (TAVR or TAVI).
If a person has life-threatening calcifications on a valve that has never been previously replaced, TAVR offers a quality "spring loaded" heart valve (or in some cases a balloon expandable valve) that can be inserted into place using a minimally invasive surgery.
Although minimally invasive surgeries like a TAVR procedure are not without risks, they do provide beneficial treatment options to people who may not have had them a few years ago while also providing the added bonus of a faster recovery in most cases. A patients' experience with a minimal surgery may be comparable to a balloon treatment or even an angiogram in terms of down time and recovery, and will likely require a shorter hospital stay (average 3-5 days).
Are there other types of minimally invasive repairs or replacement options?
Yes, there are other minimally invasive valve surgery techniques including video-assisted surgery, robotic-assisted surgery or surgeries performed with an endoscope. However in many instances, the best repair option continues to be traditional open heart surgery. It is certainly advisable to get a second opinion about valve repair and replacement options that may be right for you.
What are the benefits and considerations for a TAVR or other minimally invasive procedure?
Benefits of minimally invasive treatment options may include:
Lower risk of infection
Less trauma to the chest and heart muscle tissue
Reduced length of stay in the hospital (3-5 days)
Decreased recovery time
Of course everyone wants less pain and a shorter recovery time, but everyone also wants the best possible outcome and the longest, healthiest life as a result. Those factors along with a person's age, health history, type and severity of the valve problem and overall health will factor into the decision of selecting the best surgical option for any patient in need of valve repair.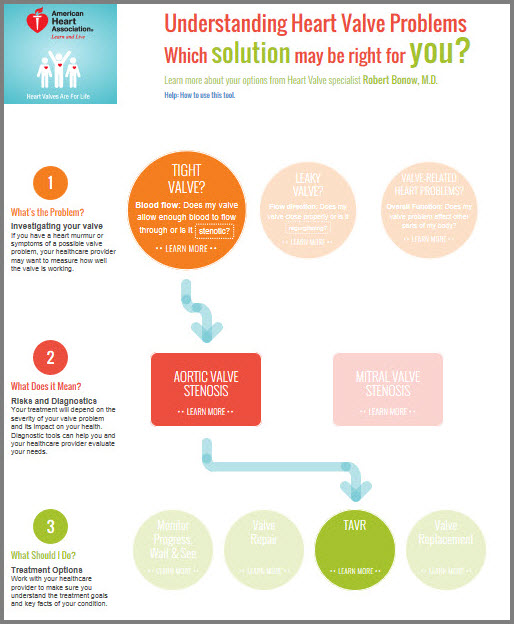 Visit our interactive treatment options guide.
Why doesn't everyone get a minimally invasive procedure?
Researchers today are pioneering new options for minimally invasive treatments and procedures. However, it is important to keep in mind that the physicians' and the surgical teams' overall goal is to lengthen life, reduce risks and provide the safest and best way to repair the problem. As you consider your options with your healthcare team, keep in mind that most people who have any type of heart valve replacement or repair procedures go on to get better and your surgical team is helping work toward the fullest possible recovery.
Be sure to download our surgery checklist (PDF)(link opens in new window) (also available in Spanish (PDF)) and recovery tracker (PDF)(link opens in new window) (also available in Spanish (PDF)) to help you prepare for the possible experience as you begin the journey toward feeling better.
Understanding your heart valve problem: Which solution may be right for you?
Walk through a step-by-step interactive guide explaining your valve issue and treatment options with helpful videos, text summaries and links along the way.
Is there any type of financial assistance for people in need of TAVR or TAVI valve replacement who lack necessary funds or healthcare coverage for the procedure?
TAVR is approved and available for qualifying patients receiving Medicare and Medicaid. More information is available on the Centers for Medicare & Medicaid Services (CMS) website(link opens in new window). Learn more about healthcare laws and government programs seeking to provide affordable coverage at the HealthCare.gov website(link opens in new window). The Heart Valve CareLine can help you navigate the insurance and medical world as it relates to your diagnosis.